ASHER Rare Books (Since 1830)
Adolph Asher (23 August 1800-1 September 1853), originally named Abraham Ascher, was born in Cammin, north of Berlin. He attended the gymnasium in Berlin and showed an aptitude for languages that was to serve him well in both his international trading and his scholarly bibliographical studies. He travelled to England as a merchant for several years and, still in his twenties, made a fortune trading in diamonds in Russia, where his son Georg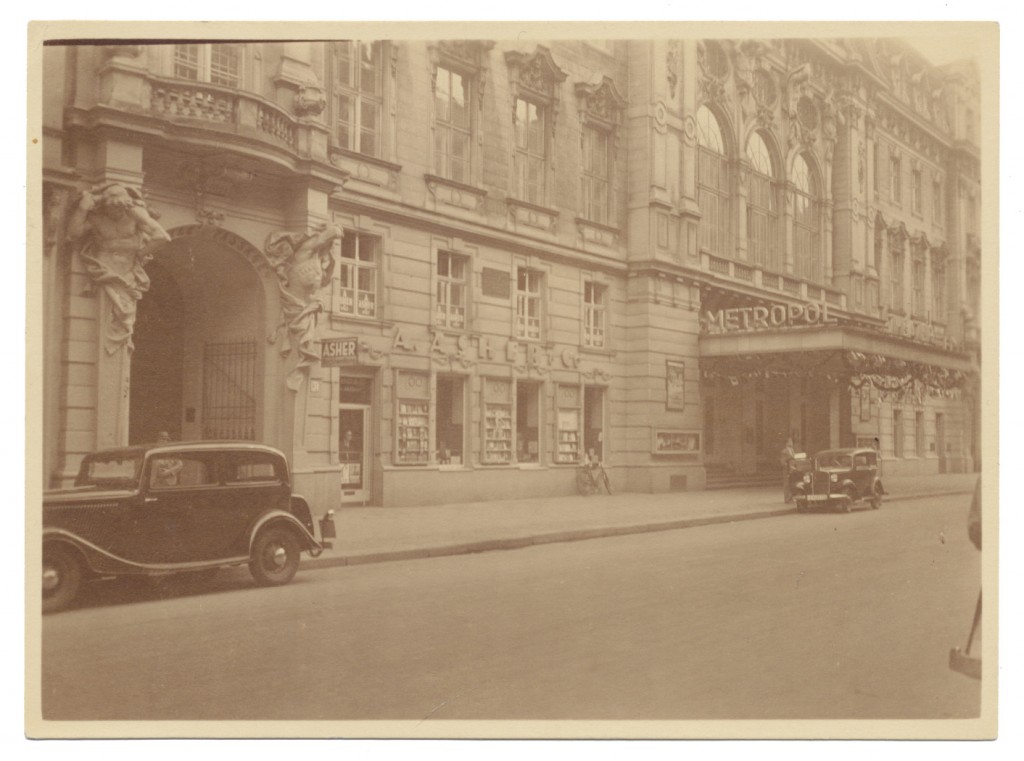 Michael was born in 1827. Coming into possession of a large collection of books, he returned to Berlin and established his bookselling business at Mohrenstraße 53 on 1 January 1830. He took advantage of his trading connections in London, where he opened a second shop in Covent Garden by 1835, and St Petersburg, where he opened a third shop. He sold new and used books, became the principal supplier of the British Museum and close friend of its great librarian Anthony Panizzi (1797-1879), and built up its then almost non-existent Russian and Eastern European collections. He also supplied many books to Alexander von Humboldt (1769-1859) and Charles Darwin (1809-1882). By 1848 he apparently moved the shop to Unter den Linden 13 (later 20), near the Königlich Preussische Akademie der Wissenschaften, another important customer. In 1839 Asher published his first Bibliographical Essay, a series of scholarly annotated bibliographies on various subjects that continue to serve booksellers today (Asher's son was to continue the tradition with one covering Dutch books on the New World, dedicated to his late father). Asher sold his firm in 1852 and died in the following year.
The purchasers, who continued under the Asher name, were Daniel Collin (later Guttentag) who soon left the firm, and most importantly Albert Cohn (1827-1905). Asher's son had worked in the firm as a young man, but left to study law and eventually became a professor at Heidelberg, though he apparently travelled for Cohn in the 1850s and 1860s. The literary scholar Cohn was the firm's principal cataloguer by 1848 and remained the most important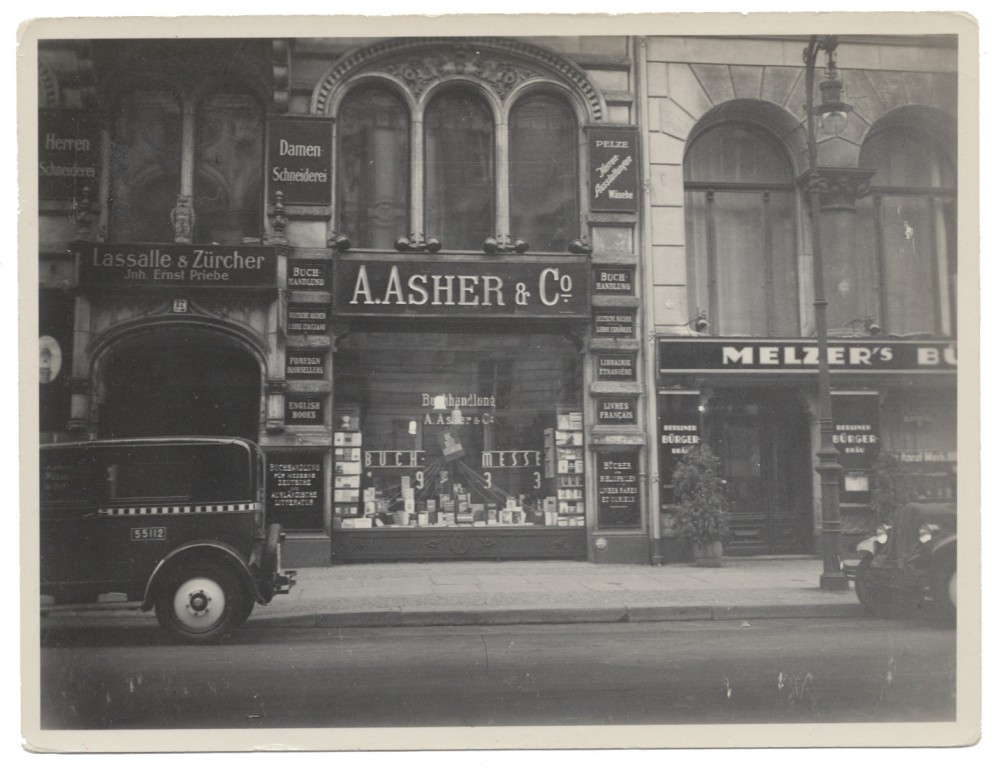 figure in the firm for fifty years after Asher's death. When Humboldt died in 1859, Asher & Co. purchased his library and resold it in London, where the bulk of the collection was destroyed in an 1865 fire at Sotheby's. Cohn is said to have sold the firm to Behrend and Simion in 1874, but perhaps they acquired only the publishing division, which continued under the Asher name. We have found no record of later antiquarian bookseller's catalogues in Berlin under their or Asher's name, while Cohn continued under his own name and appears to have numbered his catalogues as a continuation of the Asher series.
The firm seems to have declined after Cohn's death and the first World War brought trade (especially international trade) to a standstill. The exact roles of the Cohn and Lazarus families and the relation between the bookselling and publishing businesses remain to be explored. When the war ended in 1918, however, A. Asher & Co. was once again importing and exporting modern books, now from Behrenstraße 17. On the death of (Ludwig?) Lazarus, the firm came into the hands of his widow, who turned the direction over to Otto Liebstaedter (1900-1968) in 1927. The son of a Nüremberg physician, he had taken a doctorate in economy in 1926 and worked briefly as a journalist, but Asher & Co.'s bankers were relatives of his friend Karl Anton Steiner (1905-1978), who was beginning a career in law. Hitler's rise to power as Chancellor on 30 January 1933, five years after Liebstaedter took charge of Asher & Co. put everyone associated with the century-old Jewish firm in imminent danger, and the firm could no longer operate in Berlin. In that year Liebstaedter and Steiner fled to Holland with many friends, relatives and associates, and Liebstaedter operated Asher's book import and export business in the Hague until 1940.
Wilhelm Junk (1866-1942), the leading antiquarian bookseller in the field of natural history since 1899, also fled to Holland from Berlin. Nearly seventy years old, Junk sold his firm to Liebstaedter in partnership with Rudolph Schierenberg in 1935, and Steiner began work in the firm as well. Liebstaedter operated the Asher and Junk firms in parallel, but the German occupation of Holland in 1940 brought Asher's activities to an end and Liebstaedter and Steiner left Junk soon after. They and their families and associates fled or went into hiding.
Steiner continued to work as a bookseller while in hiding during the war, under cover of the non-Jewish firm Praamsma in Zeist. When he came out of hiding in 1946, he set up an Amsterdam bookshop of his own and issued three small catalogues. In 1947 Steiner dissolved his new firm, and together with Liebstaedter revived A. Asher & Co., now on the Herengracht in Amsterdam. Like Junk before them, they specialized in natural history. After Liebstaedter died in 1968, Steiner reorganised A. Asher & Co. as a limited company in partnership with his son Julius W. Steiner (born 1946). They operated the firm together from 1969, but health problems forced the elder Steiner to give up bookselling in the following year, and they sold the business to Nico Israel (1919-2002). His family had been booksellers in the Netherlands since the late nineteenth century, and he had set up his own shop in Amsterdam in 1950. He moved Asher & Co. to his premises on the Keizersgracht, but Julius Steiner continued to manage the Asher branch of the firm there. They also issued two separate series of catalogues, those under the Asher name (with roman numerals continuing the old Asher series) for natural history and those under the Nico Israel name (with arabic numerals continuing the old Nico Israel series) for fine books, maps and atlases. In 1971 Nico Israel made his original firm a division of A. Asher & Co.
When Nico Israel retired in 1995, he dissolved the Nico Israel division and sold the parent company, A. Asher & Co. B.V. to Machiel J. Roos along with the stock and reference libraries of both Nico Israel and Asher. Roos moved the firm to IJmuiden and we are now located, Tuurdijk 16, 3997 MS 't Goy-Houten. Julius Steiner began working there in 1996, strengthening the ties to the old Asher and Nico Israel traditions. Michael Roos retired in 2009, and the Asher company joint forces with Antiquariaat Forum. The management of the company is now formed by Laurens Hesselink and Julius Steiner, combining the fields covered by their ancestors: atlases, colour platebooks; natural history; travel & voyages, fine books & manuscripts.